ParaMASK objects
are block inserts containing images, wipeouts, 3D Faces, or solids. There is never any need to edit them in conjunction with the use of ParaMASK; but, they are editable using standard AutoCAD methods and commands should you want to.
ParaMASK will mask under dimension text as well as normal text and mtext entities. Command line functions included will mask areas: circles, ellipses, donuts, pie wedges, arc segments (donut pie wedges), triangles, squares, rectangles and any closed polyline with arcs and without arcs. Great for use in constructiong blocks that can hide objects.
ParaMASK command line functions do circles, arcs, and ellipses!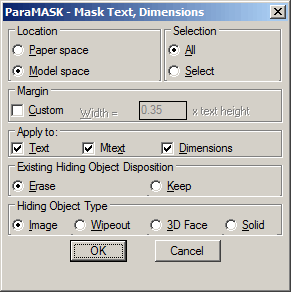 Wipeout objects
were not supported by Autodesk until release 2004. They were custom objects until recently and required the parent application before they could be used or edited. Editing is limited to only the editing abilities provided within the Wipeout application. Standard AutoCAD methods and commands cannot be used to edit Wipeouts.
Wipeouts cannot be made from circles, ellipses, or from polylines containing arcs.
Wipeout cannot do circles, arcs, or ellipses.