Several display tools and drawing options are available in this dialog.
"Display Scale" allows the user to automatically filter ParaPIPE's layers to display only the appropriate representation of each size in the piping design for a selected scale. If the double-line wall separation would be less than 1/8" plotted at the selected scale then the single-line representation is shown. Otherwise, the double-line representation is shown.
"Draw creates:" tells ParaPIPE what to include when drawing pipe and fittings. For example, when creating a detail that will always be plotted at just one scale there may be no need for both single-line and double-line representations, or hiding solids, or tag data. Check only the features needed; however, it is always easier to turn off unnecessary feature layers than it is to recreate those features later. When in doubt instruct ParaPIPE to create ALL features.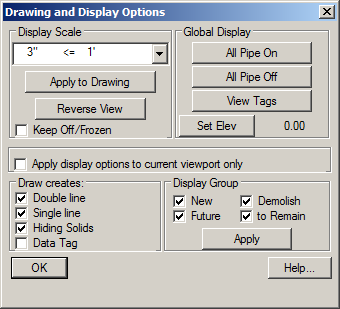 The "View Tags" button toggles the ATTDISP system variable between "Normal" and "On". Tags, where the user has elected to create them, are invisible attributes within the blocks "ATTFIT" and "ATTPIPE". It may be necessary to regen to see them after ATTDISP is set to "On".
"Display Group" provides layer on/off filtering based on the status the user selects in the CLG Layer Settings dialog